Ideas for Indoor Cricket World interviews?
More to come soon
. . . promise . . .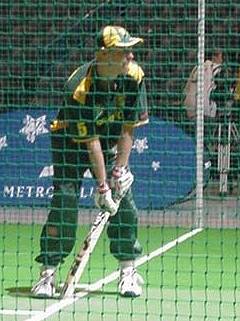 Interview
---
Tim Van Noort -- former South African Indoor Cricket World Cup Captain
NOTE: this interview was conducted in late 1999 and appears here unaltered
I first met Tim in Perth, Western Australia in 1998. The South African team were en route to Melbourne to play in the World Cup, and they played a couple of games at Ballajura Indoor Sports. I was lucky enough to play in a team that won a knock-out competition against all-comers, the prize being a game against the South Africans--not bad for a Vets team. We lost, but didn't fare too badly other than the score.
I then umpired the South Africans against the Western Australia State Team--Western Australia won what turned out to be a great game. After the games there was a lot of shirt-swapping going on . . . I still wear the "Eastern Cape I.P.T. 1997" shirt I got from Tim.
I was impressed with Tim van Noort, both on and off the court. He was obviously off the absolute top shelf when it came to playing the game, and was an easy-going, very friendly and sociable bloke off court.
When I recently caught up with Tim again via E-mail, I asked if he'd be interested in doing an interview for us. As friendly as ever, Tim readily agreed.
Tim currently lives in England.
So here is our interview with Tim van Noort, one of the very best indoor cricketers South Africa has ever produced. We hope you enjoy it.
Part 1 | Part 2 | Part 3 | Part 4